Heavenly Comfort: Hypoallergenic Silk Pillowcases to Soothe Your Sensitive Soul
When it comes to finding fabrics that love your skin as much as you do, silk is a diamond in and amongst the rough. 
Not only is it luxurious and soft, but it's also naturally hypoallergenic, making it a dream come true for those with sensitive skin or allergies. 
Get ready to explore the world of hypoallergenic silk and discover why Dreamsilk pillowcases are the perfect choice for a blissful and allergy-free sleep.
What causes allergies in fabrics?
If you have a fabric allergy, there are various ways the material can cause a reaction in your body. A material's base material, which is typically a synthetic substance, or other chemicals used during the material's production process, such as bleaching agents, dyes, and other chemicals, may result in an allergic reaction. 
Allergies in fabrics can also be triggered by fungi, germs, and mites that flourish in fabrics because of the moisture build up that the material cannot remove or absorb from the skin.
Is silk hypoallergenic?
Silk is a natural fibre made from proteins sericin and fibroin, amino acids found in common with your skin and hair.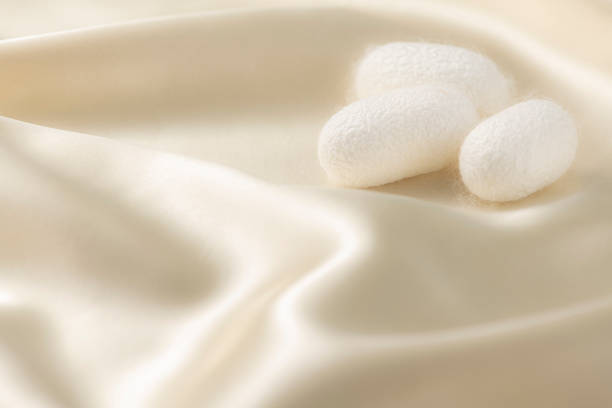 Because of this close similarity to your body's biology, silk has been used in medicine for thousands of years. 
Roman's used to make bandages from it to protect open wounds, and it's still used in cutting edge medicine today to accelerate the healing process.
It's fair to say then that silk has gained a reputation as a hypoallergenic fabric, and for good reason. Let's uncover why silk is a safe haven for your skin.
Silk To Avoid Dermatitis
Because silk's weave is so tight, your pillowcase won't harbour nasty allergy inducing bugs like dust mites which can cause dermatitis.
This makes silk a haven for sensitive skin, which explains why silk is less likely to cause itching, redness, or other allergic reactions compared to synthetic fabrics.
Why DREAMSILK's silk is a smart choice
Whilst pure silk can be a perfect choice for your skin, some manufacturers still treat silk with nasty chemicals to dye or modify the silk in a certain way.
Fortunately, all DREAMSILK's silk pillowcases and accessories bear the OEKO-TEX standard 100 certification, meaning they are a secure option for allergy sufferers. 
Materials with this mark have been examined for the presence of 100 substances known to be particularly dangerous to people, including a number of well-known allergies. 
Silk is truly nature's gift to sensitive skin
With its hypoallergenic properties and luxurious feel, silk offers a gentle and allergy-free experience like no other fabric. 
DREAMSILK's pillowcases take this comfort to the next level, providing a sanctuary for those with allergies or sensitivity. 
So why wait? Embrace the elegance and luxury of DREAMSILK and elevate your sleep routine to a whole new level of comfort and skin care.
Check out our best selling white silk pillowcase HERE