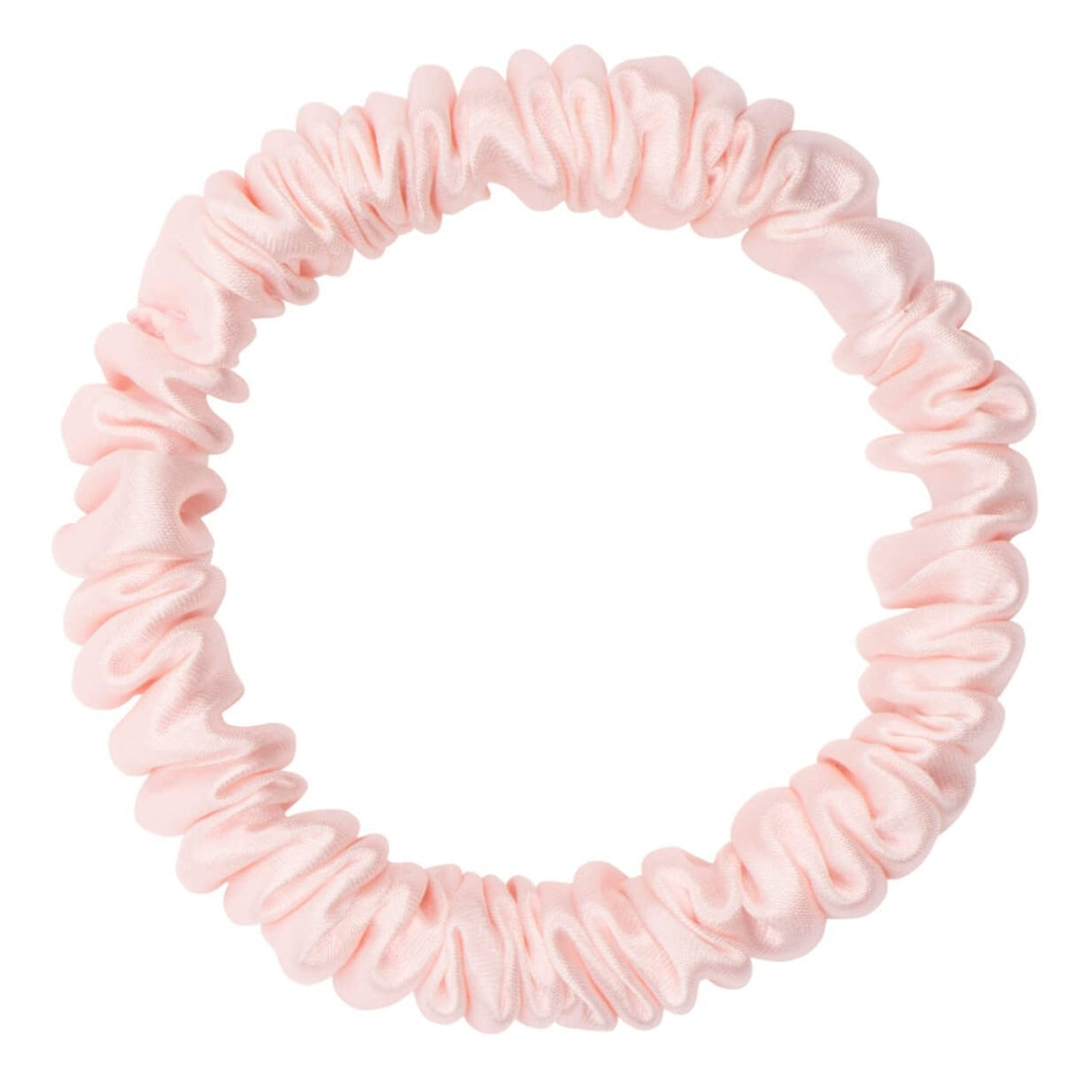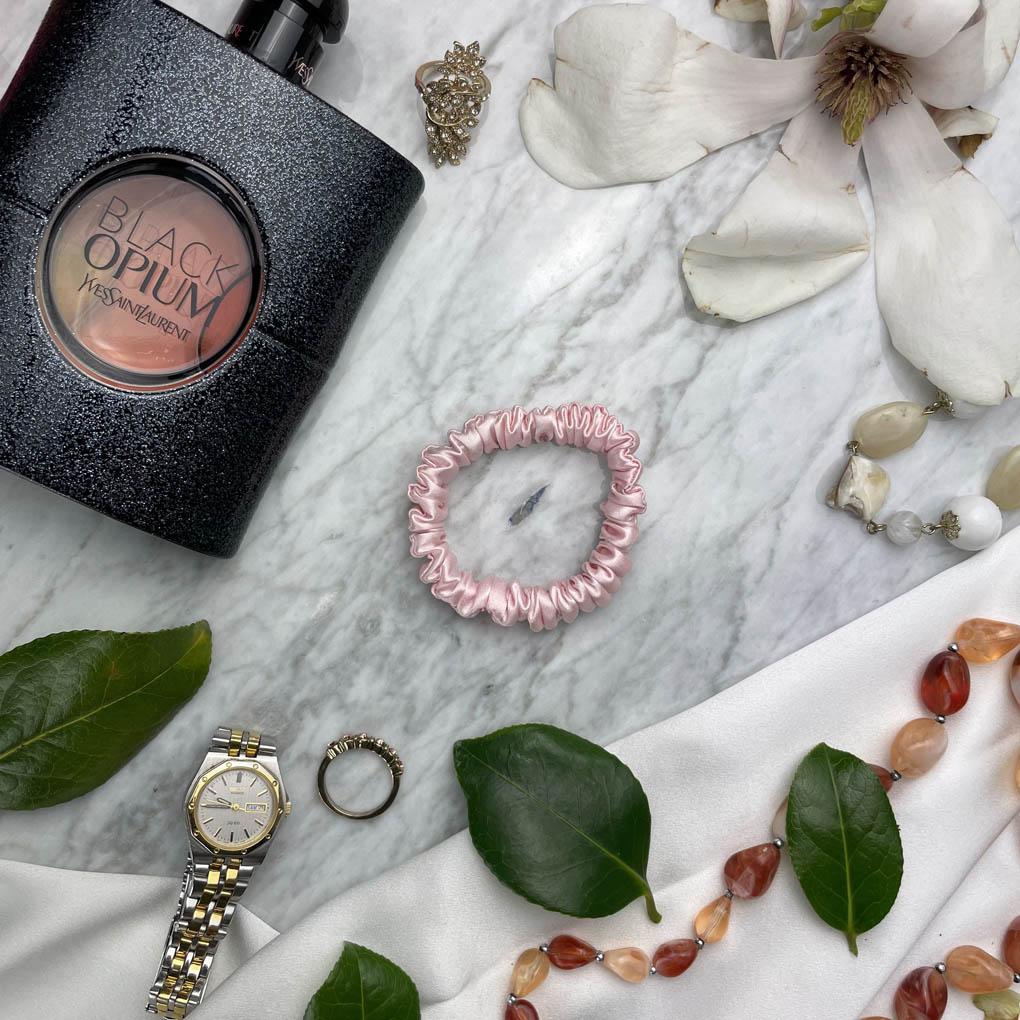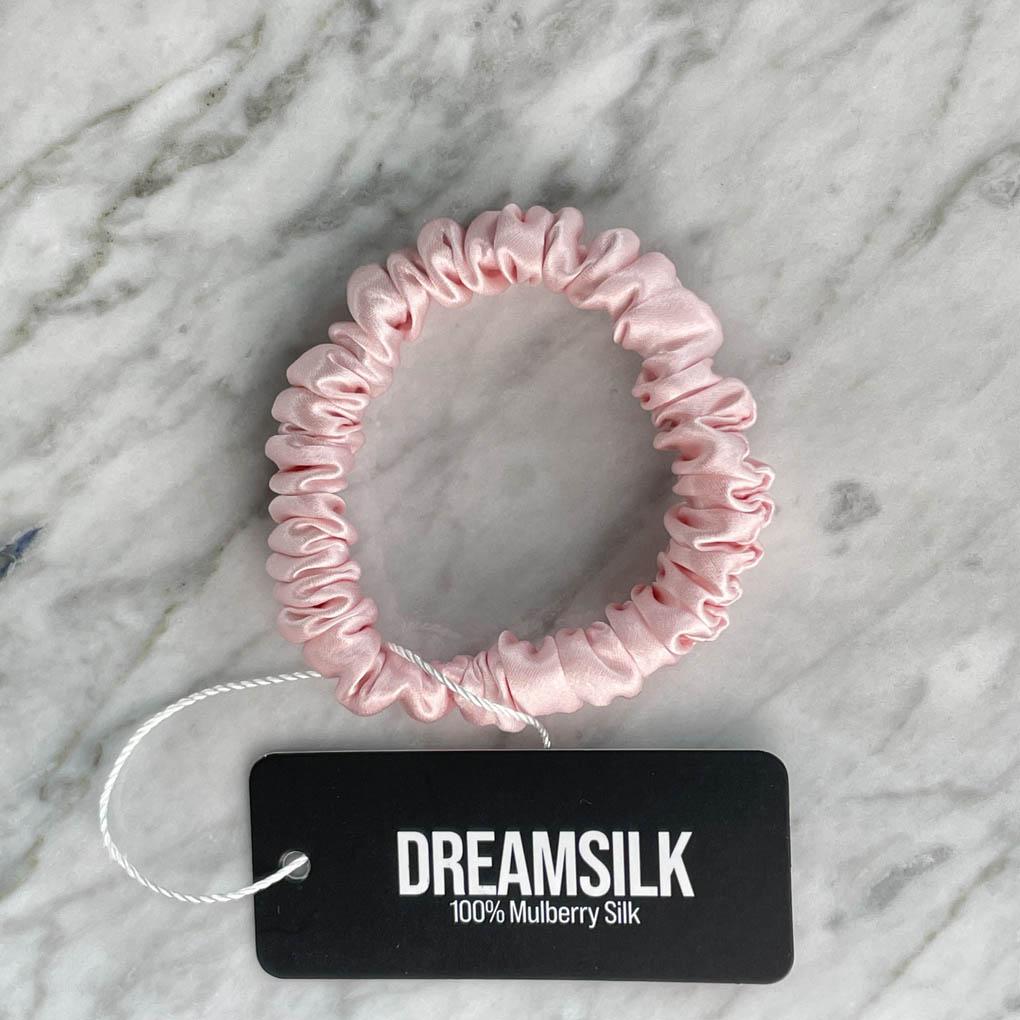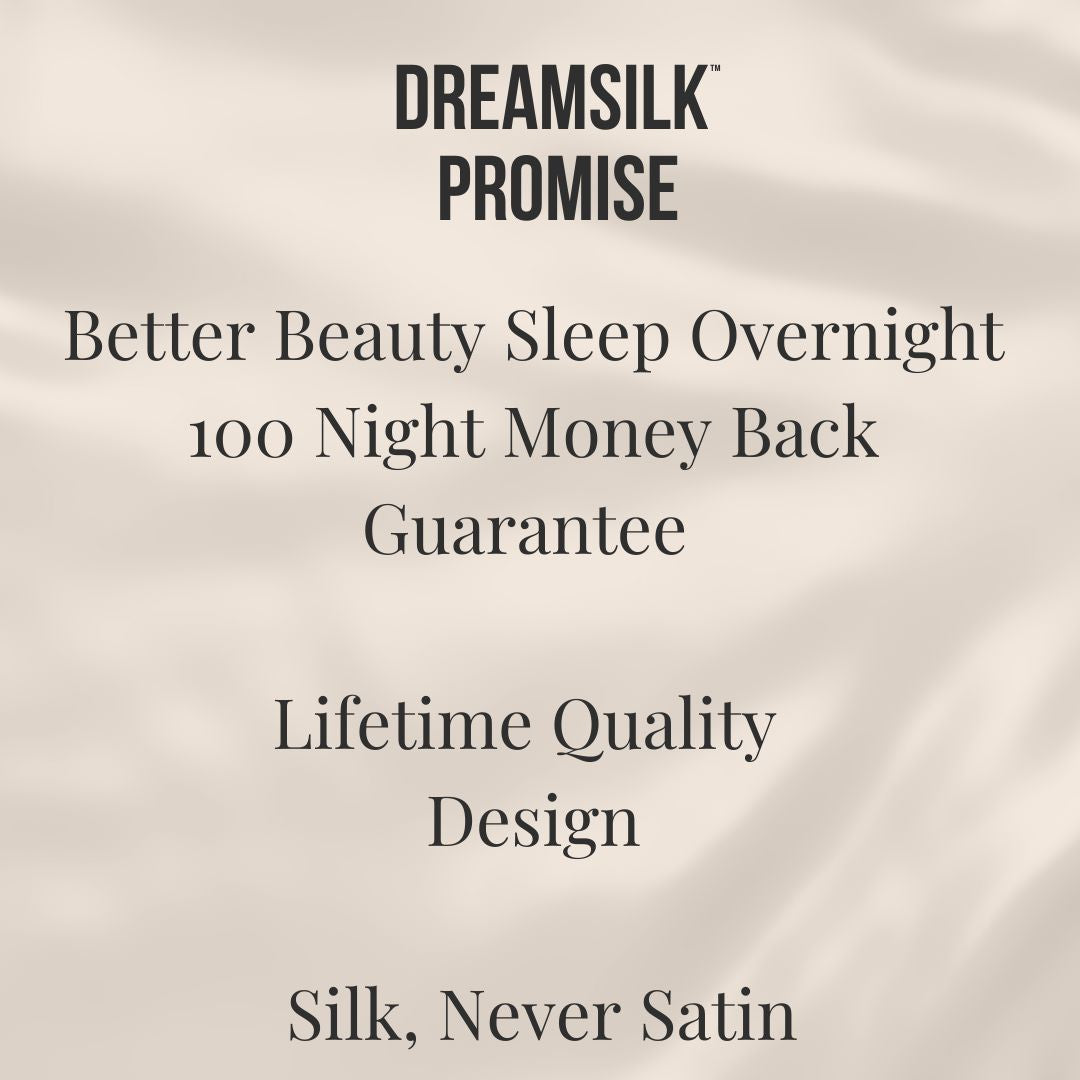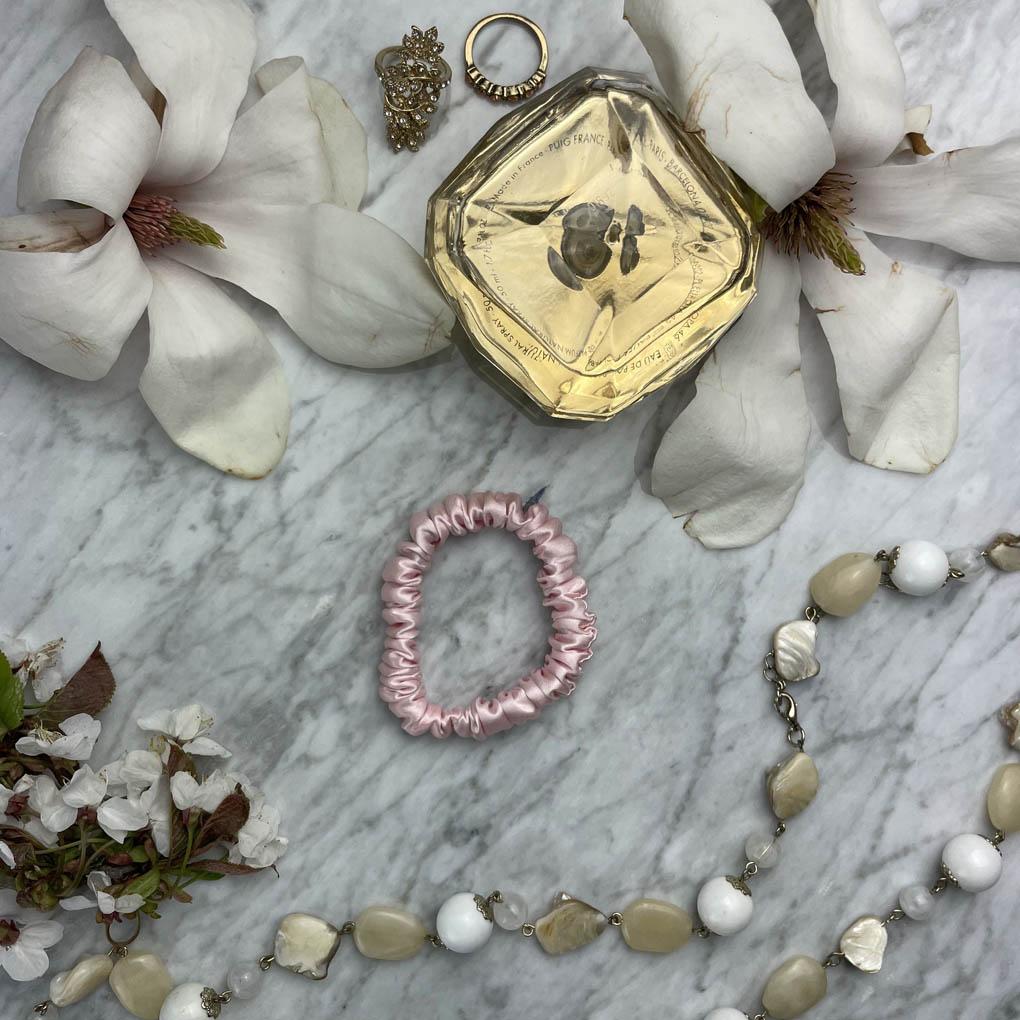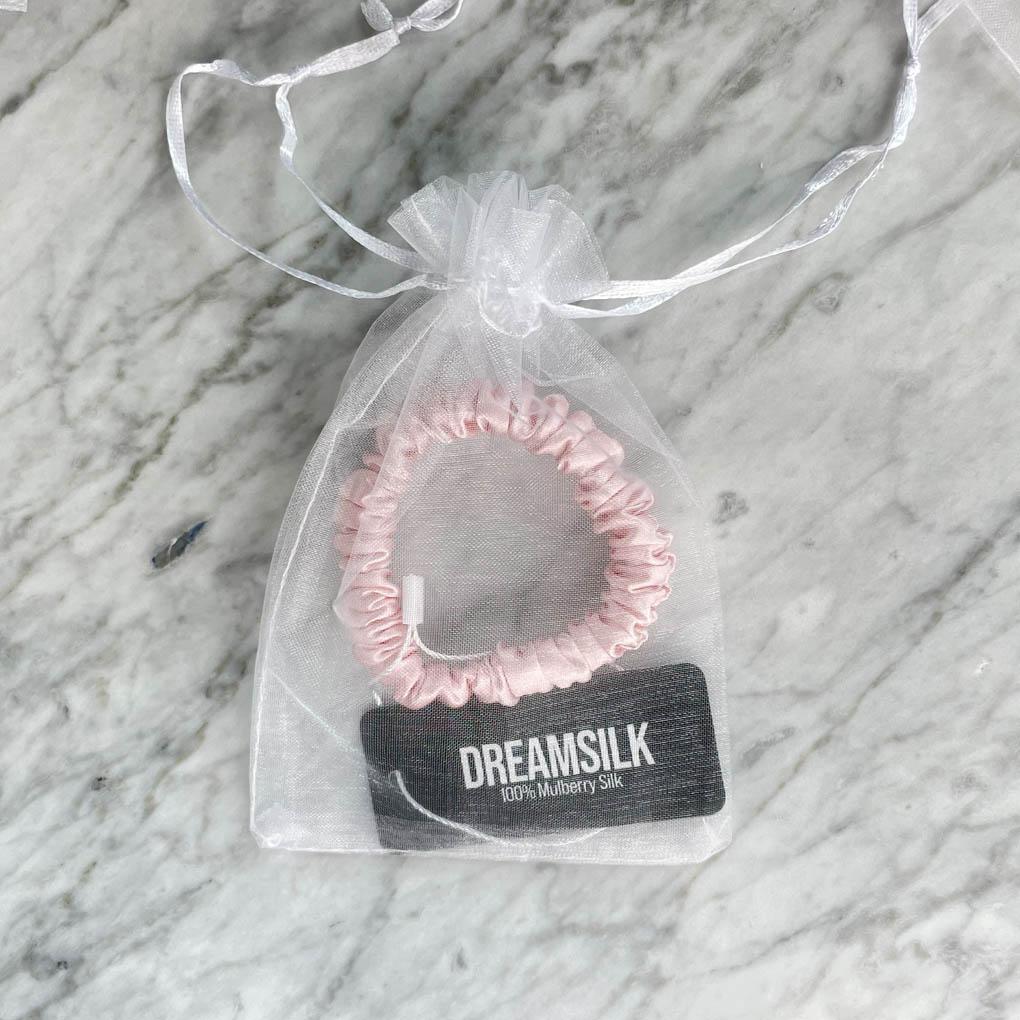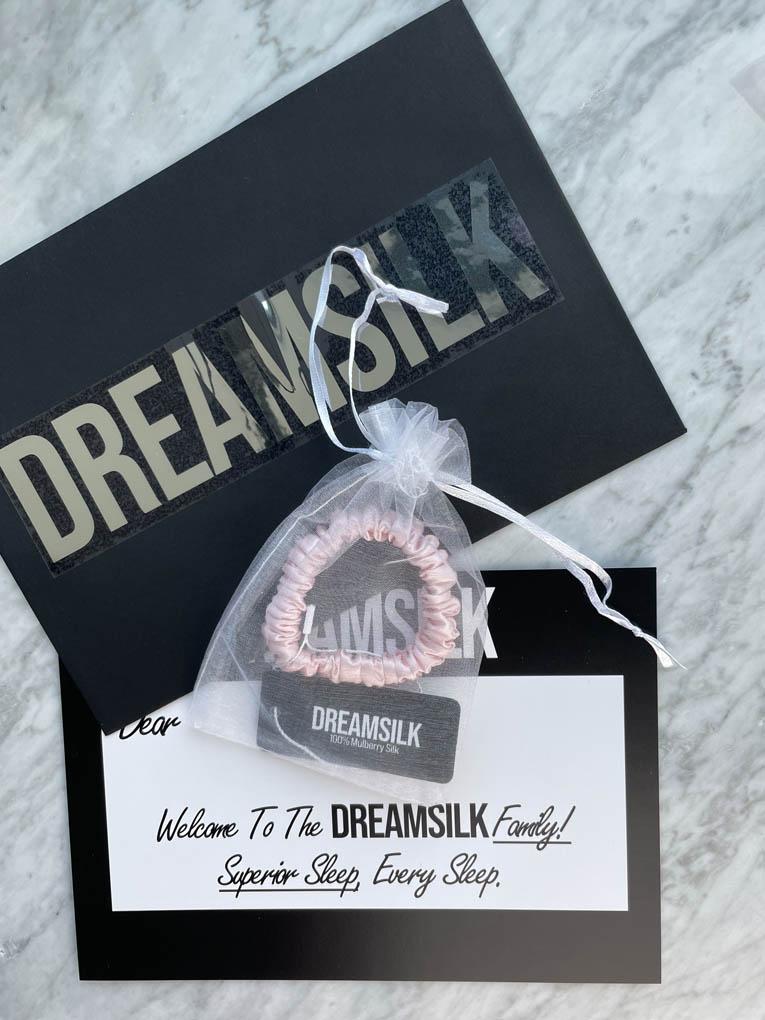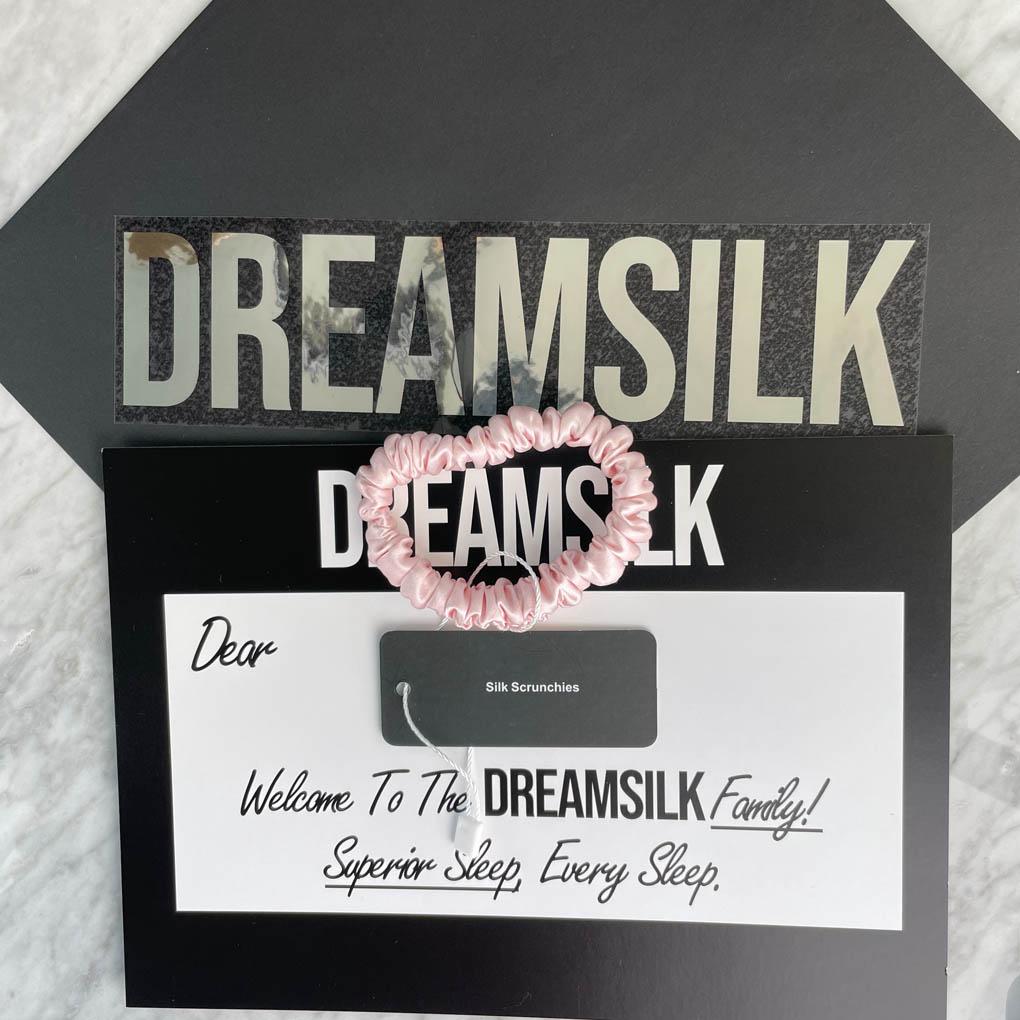 Pink Silk Scrunchie - Skinny
Description
Lifetime Warranty
Delivery
Returns Policy
Luxe Haircare Silk Scrunchies, Designed To Last You A Lifetime
Hair snagging, breakage and snapping will now be a thing of the past, thanks to 
DREAMSILK's™ 
silk scrunchies that glide over your hair like moonlight over water.
And they look BEAUTIFUL.
(Pro tip: wear a silk scrunchie whilst you sleep to avoid hair breakage in bed)
🌟 The smooth silk surface of our scrunchies reduces friction, minimising hair damage and breakage.

🌟 Gentle elasticity ensures a secure hold without pulling or tugging on your precious strands.

🌟 Unlike traditional hair ties, our Silk Scrunchies won't leave creases or dents in your hair, maintaining a flawless look throughout the day.

🌟 Add a touch of elegance and luxury to any hairstyle with our stylish and versatile silk scrunchies.

🌟 Hypoallergenic and suitable for all hair types, our scrunchies are a perfect choice for those with sensitive skin.  
Meet your new hair care bestie, ready to compliment every outfit and give you an extra touch of glamour and class.
Renowned for possessing eye-catching shine, DREAMSILK's™ silk scrunchies offer a luxurious alternative to traditional hair ties that is also thick, durable and glamorous.
Lovingly crafted with 100% pure silk, and non-toxic dyes, these silk scrunchies are delightfully soft and free of irritation.
Silk provides a gentle and snag-free hold, reducing hair breakage and tangling, designed to style your locks without damage, kinks, or creases.
Success story: Meet Sophie, a celebrity hairstylist. Both Sophie and her customer's felt the same hair problems when it came to sleep, they continuously got hair breakage and snappage, even whilst sleeping
Since Sophie added DREAMSILK™ scrunchies into her styling routine, she put an end to her own and her clients' hair breakage woes. "I'm on a journey to help my snapped hair... sleeping in a scrunchie has really helped."
The smooth silk surface and gentle elasticity of our scrunchies have become her secret weapon for creating stunning hairstyles with minimal damage.
🌟 "I absolutely love these scrunchies. I was worried they'd break because I have a lot of hair, but they're quite strong."
"I love that they don't get tangled in my hair and rip any strands like a regular hair band would. They slide off my hair with ease and have a lot of stretch! Will definitely be buying again!"
Sharnai, a truly satisfied customer


Stebbsiem, silk advocate

🌟 "Excellent quality scrunchie. It's soooo soft! My hairdresser recommended that I buy a silky scrunchie to wear at night to keep my long hair from snagging and I have to say, wonderful."
| | |
| --- | --- |
| |   |
| Less frizz for your hair, more get up and go | 100% pure mulberry silk, never satin |
| | |
| Only the highest quality silk for your hair | A natural material without any added nasties |
Due to demand, we sell out of silk scrunchies multiple times a year, so
don't miss out on the chance 
to experience the bliss of our silk scrunchies.
Remember, when you order from
DREAMSILK
™ you are protected with our DREAMSILK™ Promise - "Better Beauty Sleep Overnight 100 Night Money Back Guarantee".
If you're not
completely thrilled
with your results, simply return your silk scrunchie within 100 days for a
full refund
, including postage.
Don't wait another day to give your hair the care it deserves. Choose from our exquisite collection of silk scrunchies and enjoy free shipping on orders over £30.

Invest in your hair's health and embrace the elegance of our silk scrunchies, order now, you deserve it!

DREAMSILK™ are the only silk brand in the ENTIRE UNIVERSE to offer you a Lifetime Quality Guarantee on every order you place.
If your silk snags, snaps, tears or rips, simply send it back to us to repair or replace.
We'll even send it back out to you for free!
We're committed to sustainability and longevity for our customers and our planet ❤️
Your silk will be sent to you same day if ordered before 8pm or else under 24 hours, shipped from Bristol, UK.

UK Customers
Excpect your delivery within 1-3 days, special delivery before 1PM next day is available.
Europe Customers
Germany 3-5 days
Europe 4-7 days
American Customers
USA & Canada 7-21 days

Rest of World Customers
Rest of World 12-21 days
All customers will receive email and SMS delivery updates along the way.
You can return your silk
within 100 nights for any reason.
Simply return your order to our address quoting your name and order number
You will receive your full refund within 24 hours
Return address:
Parry Bros Ltd
23 Chapel Lane
Wilmslow
Cheshire
SK9 5HW

Pink Silk Scrunchie - Skinny
Why DREAMSILK™?
Over 1,500 5* Reviews In Total
We know you will love our silk.
Buy with confidence with our 100 night free returns guarantee.
Lifetime Warranty
DREAMSILK™ are the only silk brand in the ENTIRE UNIVERSE to offer you a Lifetime Quality Guarantee on every order you place.
Fast Shipping
Same day despatch,1-3 day UK delivery times.
5-14 day for Europe and North America.
Get In Touch
Still have questions? Give us a call on 0161 818 2030 or email us here: Send email